The shale oil industry is booming.
It's reduced the United States' reliance on imported oil and allowed U.S.-based oil producers to export. It's sparked an incredible amount of production of oil and natural gas. Many shale oil companies in the U.S. have advanced technology and plenty of acreage, making them some of the most powerful players in the industry, as well as the best shale oil investments out there. These companies providing investors with a particularly lucrative opportunity to add profitable commodities to their investment portfolios.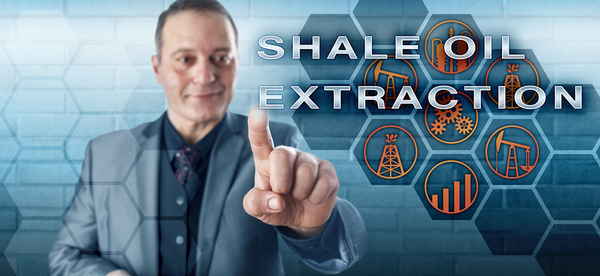 Shale oil wells are relatively cheap to drill thanks to technological advancements over recent years, which allows plenty of drilling to take place with little financial commitment. By cost-effectively tapping into the hydrocarbons caught in these rock formations through fracking, oil producers have unleashed a downpour of new energy output.
Oil trapped in shale was once too difficult to drill for; however, in recent years, fracking has opened up the floodgates in the U.S., so much so that the country is catching up to Middle Eastern and African nations in terms of the amount of crude oil that is extracted every day. Many American shale oil companies have been reserving significant reserves of shale oil on U.S. soil.
People looking for the best shale oil investments may only need to focus on domestic companies. The boom that the U.S. has already seen with shale oil production is not anticipated to end anytime soon. According to the  U.S. Energy Information Administration (EIA), the  U.S. has at least 58 billion barrels of recoverable underground shale oil.
How to Find the
Best Shale Oil Investments
When considering the best places to look to when it comes to U.S. shale oil drilling production, you may be more likely to find better success with the following three areas:
Bakken formations in North Dakota. This region occupies rock formations within the Williston Basin that covers parts of North Dakota, Montana, and parts of Canada. While the first oil discovery in the Bakken region goes as far back as the early 1950's, the trapped oil proved too hard to extract. By the early 2000's, technological advancements in horizontal drilling and hydraulic fracturing made the Bakken a viable spot for production.
Three of the big players in the Bakken include the following:
Hess Corp. (NYSE: HES) – With tons of acreage, Hess retains land right in the heart of the resource. As a result, it's expected that Hess will recover 1.6 billion barrels of oil in the years to come. Hess also has some of the lowest drilling expenses in the industry thanks to its cost-effective manufacturing approach.

Continental Resources Inc. (NYSE: CLR) – In 2004, CLR was the first in this region to complete a commercially successful well that was drilled horizontally as well as with hydraulic fracturing. Since it was a pioneer player, Continental Resources continues to lead in the production of shale oil. The company also has a massive resource base to drive growth as oil prices increase.

Whiting Petroleum Corp. (NYSE: WLL) – One of the top producers in the Bakken as of 2014, WLL is investing its development funds on improving well productivity. As a result, many of the company's wells continue to experience impressive improvement in initial production rates compared to legacy wells.
Eagle Ford formations in Texas. The Eagle Ford region spans across Texas all the way to the Mexican border. Thanks to its high oil content, the Eagle Ford Shale of Texas quickly became a prominent player in the oil industry in the U.S. The high carbonate shale content in this region makes it more frail and easier to frack. These traits led to an impressive production boom since its discovery in 2008.
The following companies have the resource potential to keep shale oil production a major player in the Eagle Ford region:
Occidental Petroleum Corp. (NYSE: OXY) – Over half of OXY's production comes from the use of enhanced oil recovery techniques to extract oil from legacy formations. Shale oil is a huge driver in the recent growth of Occidental.

Apache Corp. (NYSE: APA) – APA's production of shale oil has increased a great deal over the recent past thanks to the company's adoption of horizontal drilling techniques.
Permian Basin in Texas. There is a ton of oil potential in the Permian Basin, and it's considered one of the big oil players in the nation. Spanning from west Texas to southeast New Mexico, this region has produced billions of barrels of oil since 1921. New extraction techniques have allowed oil companies to figure out how to tap into trapped shale oil and gas.
Prominent companies in the region include the following:
EOG Resources Inc. (NYSE: EOG) – One of the largest producers of shale oil in the region, EOG also holds the most acreage. The company has also started testing advanced oil recovery techniques to free up more oil and gas that still remains trapped near its legacy wells.

ConocoPhillips (NYSE: COP) – This company was among the first to get into the game, and therefore had the opportunity to snatch up plenty of acreage at a very low cost. COP has the capability of boosting production quickly as oil conditions improve.

Chesapeake Energy Corp. (NYSE: CHK) – CHK is among the top acreage holders in the area. The company has an impressive resource base that's realizing handsome earning rates, putting it into a position to thrive in the industry.
Investing in Shale Oil in the U.S.
If you are currently wondering how to invest in shale oil, sticking with U.S. resources can translate into an abundance of profits in the years ahead. The shale phenomenon in the U.S. appears to still be in its infancy, making now a potentially opportune time to get into the industry and find the best shale oil investments around.
Be Wary of Potential Risks Associated With Investing in Shale Oil
Shale oil well drilling comes with certain inherent risks that investors should be aware of, as is the case with other types of investments. It's important to understand what these potential risks are prior to making any significant investments in shale oil companies.
For starters, nearly half of the entire oil that's drawn from the average shale well is retrieved in the first 18 months, which can make it very challenging to forecast what the remainder of the lifetime of the well will bring. The value of the shale company can be overestimated as a result over the short-term.
Any increasing costs of drilling coupled with a jump in oil supplies can lead to a drop in price, which can negatively impact profit margins.
Over the recent past, environmentalists have warned about the potential release of methane or spoiled aquifers. While drilling methods are used with caution, the possibility of issues like these occurring at some point in the future still exists, which could have an impact on prices.
Investing in the wrong company can also lead to risk of loss, especially when shale oil prices drop. Many shale oil companies have gone bankrupt as a result of carrying heavy debt burdens. However, the best shale oil investments, which are companies with an ample supply of acreage and a healthy balance sheet, will be much better able to withstand downtimes in the shale oil industry.
It is essential to clearly identify your risk tolerance and determine whether or not the shale oil industry is one that you should get into. However, based on recent spikes in domestic fracking leading to an abundance of oil in the U.S. and revolutionizing the nation's energy position, the shale oil boom could potentially last for years to come.
It should be noted that the information on Oil and Energy Investor is not meant to substitute for independent investment advice, nor does it suggest making any accurate predictions. The website is meant to provide informational services only. Any investments made should only be done with due diligence and sound decision-making after thorough investigation of the companies in question.
Based on expectations of increased shale oil production at present and into the future, it's not far-fetched to predict that the U.S. could very well reach and possibly even surpass Saudi Arabia in terms of volume of shale oil. That, coupled with the fact that the U.S. is leading the way in technological advancements for shale oil drilling, perhaps the best place to look for shale oil investments is right here on domestic soil.
Click here to sign up for our wealth-building Energy Advantage.